TO BRING CLEAN, RENEWABLE, RESPONSIBLE AND AND AFFORDABLE ENERGY TO THE WORLD
Olivier is CEO and Co-Founder of The Blue Circle. Prior to its establishment, he was Founder, Chairman and CEO of Societe Francaise d'Eoliennes (SFE) between 2001 and 2007. Under his management, the wind IPP became the largest in France, with 125MW of wind projects and 20MW of hydro in operation as well as a pipeline of 1,000MW in development before being sold to the Italian Utility Sorgenia in 2007. Olivier was also President of Nature Energies Photovoltaic from 2009 to 2011, active in solar rooftops in France.
Olivier holds a Master in Law from University Pantheon-Assas Paris and an MBA in Finance from University of Paris-Dauphine.
JEFF PERON,
Head of Project Finance
Jeff is Co-Founder of The Blue Circle. Prior to establishing The Blue Circle, he was the Founder of Green Asia Capital Advisors, a boutique investment advisory firm focusing on the renewable energy and environment sector in Southeast Asia, with a particular focus on solar PV projects in Thailand, Cambodia and Vietnam. Jeff was also Manager at KPMG Infrastructure Advisory in China, where he advised infrastructure funds and corporates on finance transactions for their projects, including a total of more than 500MW of wind projects in China, Thailand and the USA.
Jeff holds a degree from Bordeaux Business School (France) and a Master in Finance and Accounting Management (DECF).
GILLES BEAU, Chief Development Officer
Prior to his position at The Blue Circle, Gilles was Senior Wind Engineer for Windlab from 2008 to 2012 and also managed the technical support team for Windlab project developments in Australia, South Africa and North America. As part of his position, he was responsible for wind data analysis, turbine layout and energy yield calculations as well as in charge of relationship with partners and suppliers.
Before his experience at Windlab, he was Export Sales Manager for Siemens A&D (MD) managing the African sales department and Project Manager for GDF-Mexico.
MATTHIEU LE BRIS,
Chief Financial Officer
Matthieu is Chief Financial Office for The Blue Circle. He brings 20 years experience in financial roles in infrastructure and manufacturing sectors. He has been in Asia for 14 years in high growth environment. Prior to his position with TBC, Matthieu was overseeing finance operations for Asia for a mid-size equipment manufacturing and service group, with focus on finance and HR reinforcement and structuring. He also established from scratch the finance function for a greenfield manufacturing plant in Northern China.
Matthieu graduated ESSEC Business School in France and holds a Master degree in Economics from the Paris School of Economics.
HERVE GRILLOT, Chief Construction Officer
Hervé Grillot is Chief Construction Officer for The Blue Circle. He is responsible for the group's development, project and construction management of sustainable projects in Southeast Asia. Hervé has 30 years of experience in construction, including civil works, roads, rails wind and solar energies in Europe, Africa, America and Asia.
He attended an MBA program in HEC Paris and holds a Degree in Engineering from Arts et Métiers ParisTech.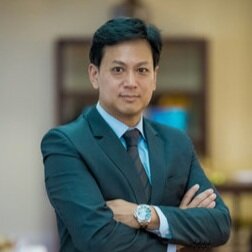 Varabott has more than 20 years experience in the banking and finance industry across Europe and Asia Pacific, with an extensive international exposure to large scale Investment Management, Hedge Funds, Private Equity, Bancassurance and Corporate Advisory missions.
Before joining the Association of Banks in Cambodia, as IBF General Manager, he worked in major European financial institutions such as Credit Suisse, Aberdeen Asset Management, AXA and Messieurs Hottinguer & Cie Banquiers.
He holds an MBA from the University of Chicago Booth School of Business and is a certified EFFAS Financial Analyst.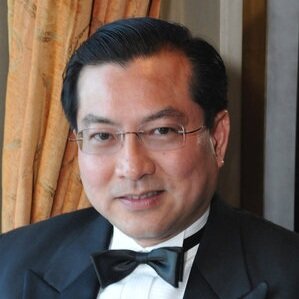 BURANAWONG SOWAPRUX, Director
Buranawong has over 28 years of experience in the energy sector, having served in various management roles for ExxonMobil Corporation. He joined Esso (Thailand) Public Company Limited in 1985 to become Finance Manager in 1989. In 1995, he led a project team to transform Esso (Thailand) PLC to become a public company listed on the Bangkok Stock Exchange. After serving in the USA and Singapore for the ExxonMobil Group, Buranawong returned to Thailand in 2002 to become Esso (Thailand) PLC Controller. He retired in 2013 after holding a management position in ExxonMobil Global Services Company in Houston and being Director of ExxonMobil Limited.
Buranawong graduated from Chulalongkorn University and holds a Doctorate in Industrial Engineering from Texas A&M University.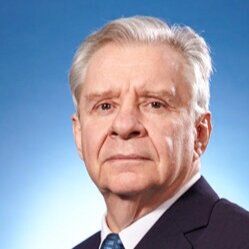 Philippe was Chief Executive Officer of ING Group Retail and Private Banking for Asia until 2009 and has been board member and Chairman of the Executive Committee of the TMB Bank since 2008. Having subsequently worked for JP Morgan Securities as Managing Director in Tokyo, London and Hong Kong, and for the Bruxelles Lambert Bank in Brussels, Philippe joined the ING Group in 2000 and served as Chief Executive Officer of ING Baring in London before heading the ING Private Banking Unit in Amsterdam and ING Retail and Private Banking Asia in Singapore from July 2005 to November 2009. He is also a member of the Board of different asset managers based in Singapore in addition to his position at the TMB Bank in Bangkok.
Philippe has a Master of Business Administration from Columbia University and an Engineering degree from Ecole Nationale de l'Aéronautique et de l'Espace in Toulouse.
PATRICE CLAUSSE, Director
Patrice joined Ayala Corporation in Manila in May 2010 as an advisor to the Strategy and Business Development team. He is presently Chief Operating Advisor to AC Energy (Ayala Corp group) as well as a member of the Board of Directors/Management & Advisory Committee of different power producer subsidiaries of AC Energy in the Philippines. Prior to joining Ayala, Patrice was a management consultant with McKinsey & Company in London as well as with Marakon Associates (part of Charles River Associates).
Patrice holds Bachelor and Master degrees in Manufacturing Engineering from Cambridge University as well as an MBA from Harvard Business School, where he graduated with high distinction.
HAYDEN WU, Chief Solar Officer
Hayden is Chief Solar Officer for The Blue Circle. He manages solar projects development and lead hybridisation projects combining solar, wind and storage across the Asia Pacific region. Hayden has extensive experience in energy related project development, advisory and construction. Prior to his role in The Blue Circle, he was the Business Development and Project Management Manager at Sunseap Group where he led project development activities across Asia Pacific region. He was responsible for developing Cambodia's first utility scale solar farm project, 100 MW rooftop financing facility in Thailand and advancing the 168 MWp utility scale solar project in Ninh Thuan, Vietnam. Before his experience at Sunseap, he was managing development and construction activities in Saipem, an international EPCI contractor in the offshore oil and gas industry.
He holds a first class Honours Degree in Mechanical Engineering from Nanyang Technological University in Singapore.
PRIYANKA AWASTHI, Chief Sustainability Officer
Priyanka is Chief Sustainability Officer for The Blue Circle. She is responsible for strengthening the sustainable practices for the company along with the development of policy framework to address environmental and social issues. Priyanka brings 9 years of experience in the field of renewable energy, environment & sustainable development practices. Prior to this, she was a Corporate Strategy Manager for wind and solar projects and was responsible for designing and implementing project strategies sustainably. Priyanka has deep knowledge working with technical and environmental teams to supervise and co-ordinate the policies, progress and on-ground implementation from concept to commissioning of wind projects and lead the implementation of Clean Development Mechanism (CDM) process for projects.
She holds a Master Degree in Business Administration from Symbiosis International University with specialisation in energy and environment.